Medical-Legal Services and IMEs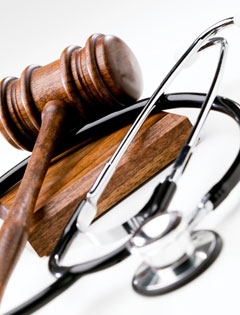 Robert J. Friedman, MD is available for medical-legal consultations (attorneys call this being an expert witness) in Pain Management and Neurology cases. Often, in the legal system, a doctor is needed to explain medical issues to, or to educate the "trier of fact" (jury and/or judge). Dr. Friedman has been retained by both plaintiff and defense attorneys for this type of work.
Dr. Friedman has acted as an expert witness in neurology and an expert witness in pain management. Dr. Friedman has been retained numerous times to address pain medication issues. Dr. Friedman has testified live in Federal court as well as several Florida courts. He has also been asked to address issues relating to the practice of medicine in relation to state medical board actions.
Dr. Friedman also performs neurology Independent Medical Examinations (IMEs) and pain management Independent Medical Examinations at the request of both plaintiff and defense attorneys, insurance companies, government agencies, and other entities.
"Dr. Friedman is an experienced neurologist who treats his patients with compassion and insight. He has a painless EMG technique and is an excellent diagnostician. Highly recommended."
Charles Eaton
President, Dupuytren Foundation
Dr. Friedman is Certified by the American Board of Independent Medical Examiners and recently completed a 15-hour course in the implementation of the AMA Guides to the Evaluation of Permanent Impairment (6th Edition). These guides are used to determine the degree of impairment (which means loss of bodily function) due to a permanent medical condition or injury.
Dr. Friedman has been appointed an Expert Medical Advisor for the Florida Division of Worker's Compensation. Expert Medical Advisors help Florida administrative judges settle disputes in worker's compensation cases.
Dr. Friedman has provided opinions and testimony as an expert witness regarding the following issues, among others:
Standard of care in neurology
Standard of care for pain management
Pain medication issues (involving such drugs as narcotic (opioid) pain medications)
State medical board cases
Peripheral nerve injuries
Complex Regional Pain Syndrome
Botulinum (Botox) injection
Spinal trauma
Traumatic brain injury
Headache disorders
Complex Regional Pain Syndrome (CRPS)/RSD
Attorneys and other professionals such as insurance company representatives may request a medical-legal consultation or schedule a neurology or pain management Independent Medical Examination by sending a request or calling 561-842-7246.