Transcranial Magnetic Stimulation (TMS)
Are you or a loved one suffering from:
Depression
Tinnitus
Anxiety
PTSD
Addiciton
Neuropathic Pain
Complex Regional Pain Syndrome (RSD)
Headaches
Stroke
Traumatic Brain Injury
If you answered 'yes' to any of the above, Transcranial Magnetic Stimulation (TMS) may be the solution you've been looking for!
What Is TMS?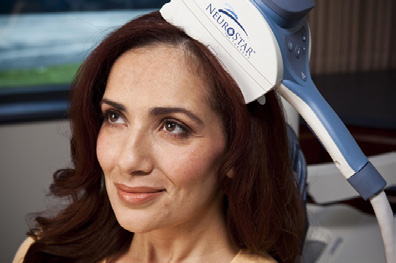 Transcranial Magnetic Stimulation (TMS) or repetitive TMS (rTMS) is a non-invasive, non-drug medical therpay that delivers highly focused, MRI-strength magnetic pulses to stimulate nerve cells in a localized part of the brain.
rTMS was developed in 1985 and has been studied since the mid-1990's as a possible treatment for depression, psychosis, chronic pain, tinnitus and other disorders.
A typical TMS session lasts 30 to 60 minutes and does not require anesthesia. An electromagnetic coil is held against the forehead near an area of the brain that is thought to be involved in mood regulation.
Then, short electromagnetic pulses are administered through the coil. The magnetic pulse easily passes through the skull and causes small electrical currents that stimulate nerve cells in the targeted brain region.
Because this type of pulse generally does not reach further than two inches into the brain, we can select which parts of the brain will be affected and which will not be. The magnetic field is about the same strength as that of a magnetic resonance imaging (MRI) scan.
Recent TMS studies show benefit in treating chronic pain, alcohol addiciton and abuse, smoking addiction, stroke rehabilitation, movement disorders, and other refractory neurological disorders.
Click on the tabs below to learn more.
TMS & Depression

TMS & Pain

TMS & Substance Abuse
TMS is approved for use by the FDA as a treatment for major depression for patients who have not responded to at least one antidepressant medication.

TMS can provide potent antidepressant and anti-anxiety without the use of medications.

Watch author and former CNN news anchor, Schatzie Brunner, who found wellness with TMS Therapy. Hear how she overcame her depression with TMS treatments.

TMS can activate neurons in a localized region, potentially disrupting and changing pain signals associated with neuropathic chronic pain.

Tinnitus
Fibromyalgia
Complex Regional Pain Syndrome (RSD)
Traumatic Brain Injury
Headaches

TMS therapy can help reduce cravings, providing a stepping stone during rehabilitation.

TMS therapy can help addictions such as:

Smoking Cessation
Bulimia/Eating Disorders
Medication/Alcohol Dependency Issues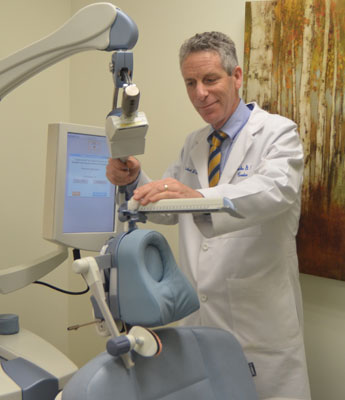 With over 7 years of experience providing TMS and other on-invasive treatments, BrainStim and Dr. Robert J. Friedman is at the forefront of brain stimulation therapies in South Florida.
We unite evidence-based outcomes with cutting-edge technologies to quickly improve quality of life for patients dealing with a wide range of brain-related injuries and conditions.